Terms and Conditions - Rising Phoenix Fitness
Mar 24, 2021
About Us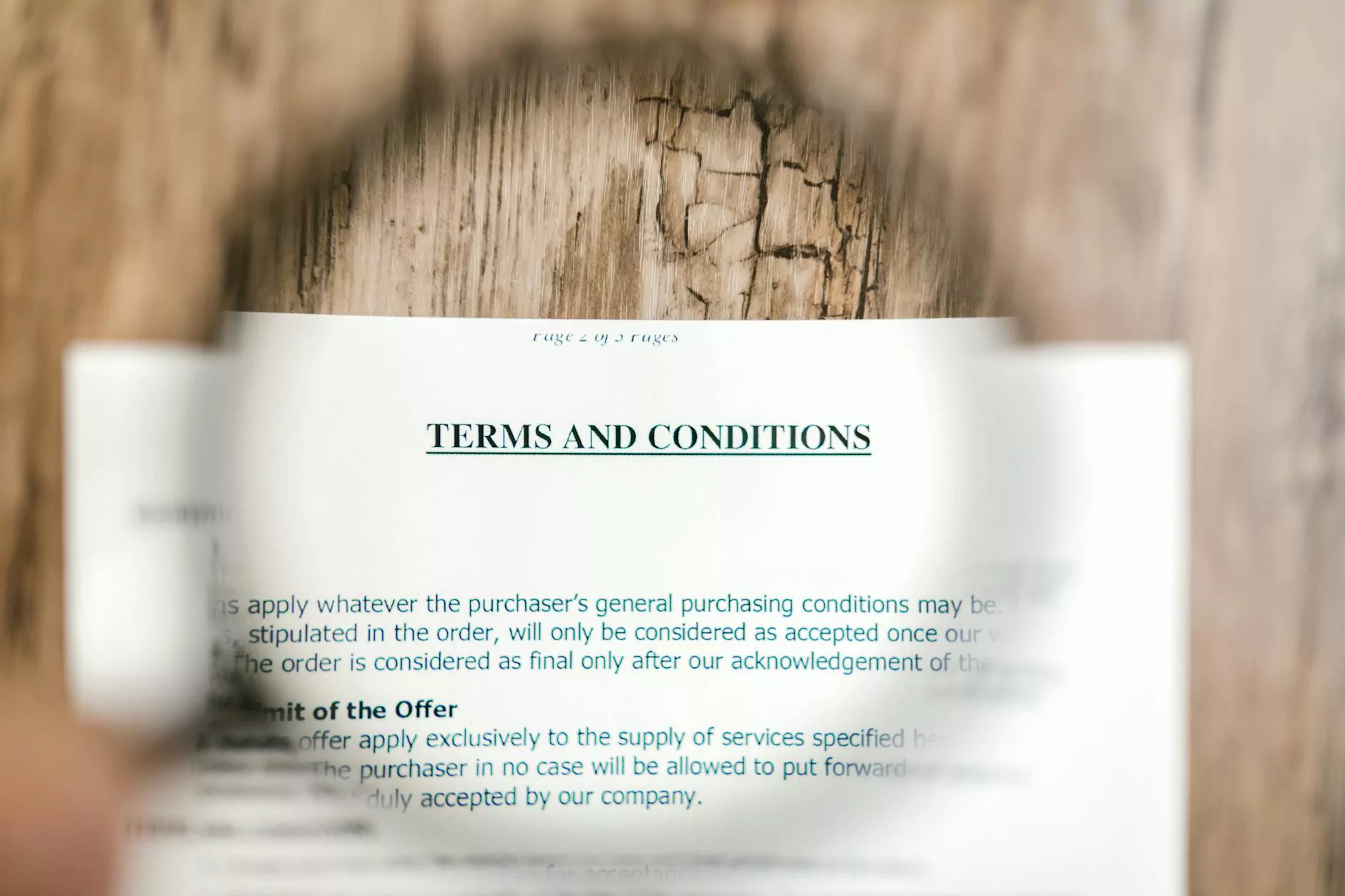 Welcome to Rising Phoenix Fitness!
Thank you for visiting Rising Phoenix Fitness, a premier website dedicated to Health, Nutrition Diets, and Fitness. By accessing and using our website, you agree to comply with these terms and conditions. Please read them carefully.
1. Acceptance of Terms
These Terms and Conditions govern your use of Rising Phoenix Fitness, its services, and any content or materials provided on the website. By using our website, you agree to be bound by these terms. If you do not agree with any part of these terms, please refrain from using our website.
2. Content Disclaimer
The information provided on Rising Phoenix Fitness is for general informational purposes only. We strive to provide accurate and up-to-date content, but we make no guarantees or warranties of any kind, express or implied, regarding the completeness, accuracy, reliability, suitability, or availability of the information contained on our website.
Furthermore, the content on Rising Phoenix Fitness should not be considered as professional advice. Always consult with a qualified healthcare professional or fitness expert before making any changes to your diet, exercise routine, or starting any new fitness program.
3. Intellectual Property
All content, including text, images, graphics, logos, and videos, on Rising Phoenix Fitness is the property of Rising Phoenix Fitness and is protected by applicable intellectual property laws. The use, reproduction, or distribution of any content from our website without prior written permission is strictly prohibited.
4. User Contributions
Rising Phoenix Fitness allows users to contribute comments, reviews, and other content. By submitting content to our website, you grant us a non-exclusive, royalty-free, perpetual, and worldwide license to use, display, modify, and distribute your contributions for any purpose.
However, when contributing content, you must ensure that it does not violate any applicable laws, infringe on any third-party rights, or contain any offensive, defamatory, or harmful material.
5. Links to Third-Party Websites
Rising Phoenix Fitness may include links to external websites that are not owned or controlled by us. We have no control over the content, privacy policies, or practices of these websites, and we assume no responsibility for them.
We encourage you to read the terms and conditions and privacy policy of any third-party website that you visit from links on Rising Phoenix Fitness.
6. Limitation of Liability
Rising Phoenix Fitness and its owners, directors, employees, or affiliates shall not be held liable for any direct, indirect, incidental, consequential, or special damages arising out of or in any way connected with the use of our website or the content displayed on it.
7. Modifications and Termination
We reserve the right to modify, suspend, or terminate Rising Phoenix Fitness or any part of it at any time without prior notice. We may also revise these terms and conditions from time to time. Your continued use of our website after any modifications indicate your acceptance of the updated terms.
8. Governing Law
These terms and conditions shall be governed by and construed in accordance with the laws of [Your Jurisdiction]. Any legal actions or proceedings arising out of or relating to these terms shall be exclusively brought in the courts of [Your Jurisdiction].
9. Contact Us
If you have any questions, concerns, or inquiries regarding these terms and conditions, please feel free to contact us. We value your feedback and will do our best to address your queries in a timely manner.
Thank you for choosing Rising Phoenix Fitness as your go-to resource for Health, Nutrition Diets, and Fitness information!
Disclaimer: Please consult with a healthcare professional or fitness expert before making any lifestyle or dietary changes.